Three important launches of books addressing burning issues to be held coming weeks. If you're available in Montreal or New York, comme and join us.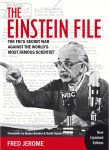 April 19 — The New Updated Edition of Fred Jerome's The Einstein File, The FBI's Secret War Agains the World's Most Famous Scientist will be launched in New York City on Thursday, April 19 at 7 pm at the New York Society for Ethical Culture, 2 West 64th Street. The new edition contains important new information in the Author's Update including details on the FBI's "Treason File" as well as Forewords by Ajamu Baraka and David Suzuki.
Ajamu Baraka discusses "Einstein and McCarthyism – Old and New," while David Suzuki examines the "Squelcing of Scientists, Then and Now."
April 30 —   Let's Move On, Paul Okalik Speaks Out by Paul Okalik, the first Premier of Nunavut, with the historical context by Louis McComber will be launched on Monday, April 30 at 5:30 pm at the Avataq Cultural Institute, 4150, rue Sainte-Catherine ouest, bureau 360, Montreal. Paul Okalik will be in attendance. The launch is organized by Baraka Books and the Avataq Cultural Institute. Let's move on is an expression of determination inherited from generations of Inuit, faced with harsh climatic conditions and colonial policies.
May 7  —   Patriots, Traitors and Empires, The Story of Korea's Struggle for Freedom by Stephen Gowans could not appear at a better time as war mongering continues to grow in the United States (and in Canada). Stephen Gowans will be in Montreal for a launch and lecture on Monday, May 7, starting at 7 pm, at the Centre Saint-Pierre, Salle 200, 1212, rue de la Visitation, in Montreal. Gowans' new book is a much-needed antidote to the jingoist clamor spewing from all quarters whenever Korea is discussed. His previous book, Washington's Long War on Syria (Baraka 2017) was a major contribution to the fight for peace in the Middle East.
All launches are free of charge. For information or to RSVP: info@barakabooks.com.