The Raids by Mick Lowe was launched before a crowd of some sixty friends and supporters at the Steelworkers' Hall in Sudbury on Sunday, May 25.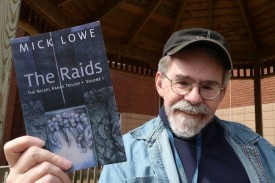 Mick Lowe told guests about the importance and the challenges of making this story known, first to the people of the Nickel Range, but also to Canada and the world. "It's still a taboo and there are still scars," he insisted. He also pointed out the advantages of using fiction to make it known to the younger generation.
The crowd included miners and former miners who were all impressed by how well Mick Lowe grasped the work, the conditions, and the lives of miners. Peter Miner (see photo), a retired hardrock miner, helped Mick Lowe with technical points.
Also in attendance was Dave Patterson, a former hard-rock miner, former president of Local 6500 in Sudbury and director of District 6 of The Steelworkers. Patterson describes The Raids as "a compelling story of political power, love and hatred all rolled into a gritty, hard-hitting novel of the Nickel Range." He predicts that the book will be a national bestseller in the Sudbury area alone.
Oryst Sawchuk, whose illustration Hardrock graces the book cover, spoke about how proud he was to be part of the project. Oryst contributed six other original illustrations of places and events that are key to the plot of The Raids, including one of the siege of the Mine Mill Local 598 Hall on Regent Street.
Guests at the launch were also able to see Oryst Sawchuk's Mining Art, which is being exhibited at Gallery 6500 in the Steelworkers'
Hall. The Opening of the exhibition coincided with the launch of The Raids. Oryst Sawchuk sees the exhibition as a tribute "to those who have penetrated the bowels of the Earth," in the words of Chilean poet Pablo Neruda, and to honour the memories of miners killed on the job.
Representing Baraka Books, publisher Robin Philpot countered the argument made by some that The Raids is just a "regional book." Philpot insisted that this is much more. "It's a Cold War story, the battle of ideologies that was being fought in the streets of Sudbury. The same battle fought out in many mining regions throughout North America in the wake of the McCarthyite 'red scare.'"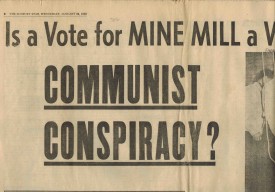 Quite coincidentally, Jack Pauzé, an 89-year-old former constable, attended the launch and brought original 1960s clippings from The Sudbury Daily Star that prove the international nature of the story. In a screaming full page ad feature those who were carrying out the raids took the pains to cite US Attorney General Robert F. Kennedy, the RCMP, the CIO and many more to make their case.
Denise Truax of Prise de Parole, a Sudbury-based French-language publisher, attended the launch and expressed interest in seeing this story also appear in a French-language edition.
Get your copy of The Raids here.
CTV attended the launch and produced this report.