James Jackson talks about THE RIOT THAT NEVER WAS with Tommy Schnurmacher – Click and listen…
James Jackson's THE RIOT THAT NEVERS WAS got off to a good start when it was launched on November 17 in the Hôtel XIXe siècle on rue Saint-Jacques. Some 70 people turned up to obtain this important new book about a little-known and tragic event that took place right in front of the hotel in 1832.
THE RIOT THAT NEVER WAS by James Jackson reveals exactly what happened and what didn't happen when British troops shot three innocent Montrealers on rue Saint-Jacques on May 21, 1832. He answers the question about that tragic shooting in a manner that will satisfy those who are similarly interested in answering questions such as: What really happened at Kent State on May 4, 1970 when four students were killed by the National Guard? What really happened in Derry, Northern Ireland, on "Bloody Sunday", January 30, 1972 when fourteen pacifists where shot by British troops?
Until James Jackson came along,  nobody ever really tried to understand exactly what happened in Old Montreal that tragic day of May 21, 1832.
As a by-election eventually won by Irish immigrant and newspaper editor Daniel Tracey drew to a close in May 1832, magistrates supporting his opponent, loyalist Stanley Bagg, called in the British troops from the local garrison. Ordered to open fire on a supposed mob, the troops killed three innocent bystanders following what has been qualified ever since as a riot. James Jackson establishes that the riot simply never happened and that there was no mob when soldiers opened fire.
His proof is corroborated by affidavits presented to a packed grand jury that exonerated the soldiers and officers and the magistrates who called in the troops. The grand jury comprised a majority of recently arrived English-speaking Protestant farmers even though the three victims were French Canadian and Catholic. Most troubling is the fact that historians have not questioned the official story.
In this historical whodunit, James Jackson is a one-man commission of inquiry, combining the moral indignation of Émile Zola and the writing talent and historical perspective of Pierre Berton.
A fascinating, methodical investigation into a little-known tragedy reveals that truth can prevail even 180 years after the fact.
Scene of the shooting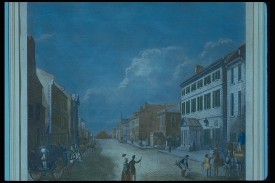 Rue Saint-Jacques, looking west where the three bystanders were killed. The first building on the right is the old Bank of Montreal building. The vote was being conducted just to the right of the Bank.
James Jackson holds a DPhil from Oxford University. He taught French and Quebec Literature and History for 25 years at Trinity College Dublin. Twice elected president of the Association for Canadian Studies in Ireland, James Jackson now lives in Montreal.
THE RIOT THAT NEVER WAS, The military shooting of three Montrealers in 1832 and the official cover-up
James Jackson
360 pages, 12 photos, maps
Paper $29.95 ISBN 978-0-9812405-5-8
Orders LitDistCo: 1-800-591-6250 orders@litdistco.ca
In bookstores: November 30, 2009
FOR REVIEW COPIES, INTERVIEWS CONTACT:
Baraka Books – 514-808-8504; info@barakabooks.com