In the wake of the US Supreme Court decision invalidating key parts of the historic 1965 Voting Rights Act, Baraka Books will publish in September Challenging the Mississippi Firebombers, Memories of Mississippi 1964-65 by Jim Dann.
The Supreme Court struck down the heart of that law, which was adopted as a direct result of the work of courageous young people, mainly in the Student Non-violent Coordinating Committee, who had been fighting to win the right to vote for blacks in Mississippi and elsewhere in the South. It took three martyrs (Goodman, Chaney, and Schwerner) and a lot of determination from Fannie Lou Hamer, Charles McLaurin and many others to obtain that law. Yet the conservative Supreme Court struck it down saying that things had changed and that no barriers to voting remained. Millions of people simply do not agree. Challenging the Mississippi Firebombers will be an important contribution to understanding what civil rights means and how they must be constantly fought.
Jim Dann, who sadly passed away on Sunday, June 16,  worked valiantly to finish his book on those history-making events.  Here is the description.The book will be available on September 15.
"In June 1964 young black and white civil rights workers risked their lives in the face of violence, intimidation, illegal arrests, and racism to register as many African American voters as possible in Mississippi, which had historically excluded most blacks from voting. With a firsthand account of the details and thoughtful descriptions of key people on the front lines, including Fannie Lou Hamer, Charles McLaurin, John Harris, Irene Magruder, and many more, author Jim Dann brings that historic period back to life. He places those 15 months in Mississippi in the overall history of the struggle of African Americans for freedom, equality, and democratic rights in the South, the country, and throughout the world. Fraught with lessons from those experiences, Challenging the Mississippi Firebombers is an outstanding contribution to understanding and advancing civil rights struggles. It is also an engrossing story of a pivotal moment in the mid-20th-century United States.
With 35 unpublished photos, 6 illustrations by Tracy Sugarman, and 3 maps, readers relive those months with people who made history. Destined to be on 'compulsory reading' lists."
Excerpt
"A courageous band of black SNCC workers had been struggling for three years, trying without success to register black people to vote. Jailed, beaten and killed for their efforts, they were ignored by the media and federal government. Now this was about to change: with the full glare of major media publicity a thousand mostly northern college students would enter the fray to share weal and woe with the black people of Mississippi."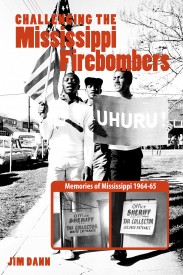 Jim Dann volunteered for the Mississippi Summer Project organized by the Student Nonviolent Coordinating Committee (SNCC) in 1964 and stayed on the following year as an SNCC field secretary. He lived in Vacaville, California. Jim died of leukemia on June 16, 2013.
John Harris (1943-2012) wrote the preface. President of the largest SNCC chapter at Howard University, he joined the Mississippi Summer Project in 1964 and was key SNC advocate for equality and civil rights.