Baraka Books launched four new titles in fall 2010.
Roads to Richmond, Portraits of Quebec's Eastern Townships
Nick Fonda (September 2010)
ISBN 978-1-926824-00-0; 188 pp; illustrations by Denis Palmer; $19.95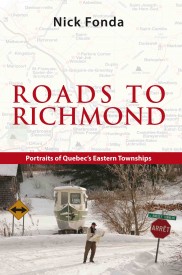 Advance Praise
"Nick Fonda has captured the essence of one of the most unique areas within Canada. This book is full of specific insights into a specific place. It possesses both truth and charm, which is a rare combination in today's world. It will both enlighten and entertain. Buy it. Read it. Think and ponder universal truths." – Alistair MacLeod, prize-winning author of No Great Mischief
This unusual, sometimes quirky, road book works like a mosaic. Its inlaid stones are the brief histories, candid snapshots, curious anecdotes, insightful observations, sobering reflections, and stories to make you smile. But the big picture is a moving portrait of a little known but historical corner of Canada—Quebec's Eastern Townships. Nick Fonda masterfully puts you behind the wheel—sometimes in the train's engine—and lets you meander through the Townships to meet people who make it a unique place where Canada's famous two solitudes have grown entwined. With new and thoughtful illustrations, Denis Palmer captures Nick Fonda's insight into a part of the world that deserves to be better known.
****
Trudeau's Darkest Hour, War Measures in Time of Peace, October 1970
Edited by Guy Bouthillier and Édouard Cloutier (September 2010)
ISBN 978-1-926824-04-8; 212 pp; $19.95
Forty years ago in the middle of the night the government of Pierre Elliott Trudeau proclaimed the War Measures Act following two political kidnappings by the FLQ. It thereby suspended the Constitution and all civil liberties, deployed 12,500 troops in Quebec—7,500 in Montreal alone— arrested 465 people without charges and detained them incommunicado without bail and without the right to legal assistance. It also entered and searched more than 10,000 homes without warrant.
In this rigourously researched and brilliantly presented anthology, Canadian political leaders, thinkers, journalists, and writers explain how the government of Pierre Elliott Trudeau deceived the people of Canada and denied justice when it proclaimed war measures in peacetime for the first time in history.
Tommy Douglas called it "overkill on a gargantuan scale." Trudeau's own ministers Don Jamieson and Eric Kierans said their case was not "compelling," that they made a "terrible mistake," and that their "common sense went out the window." Peter C. Newman tells how Trudeau floated a "meticulously concocted lie" about a revolutionary provisional government in Quebec.
Margaret Atwood, Robert Fulford, Robert Stanfield, Reg Whitaker, Jack Granatstein, John Conway, Thomas Berger, Ramsay Cook, Desmond Morton, Hugh Segal, David Macdonald, and others provide testimony, insight, and wisdom to understand the past and guide us in the future.
****
Discrimination in the NHL, Quebec Hockey Players Sidelined
by Bob Sirois (October 2010)
ISBN 978-1-926824-01-7; 220 pp; $22.95
Ever since Maurice Richard dazzled hockey fans, fighting his way to hockey's summits, the issue of discrimination against Quebec hockey players has simmered on. NHL veteran Bob Sirois now demonstrates that unless Quebec hockey players are superstars they are less likely to be drafted than other players in Canada. They can also expect shorter careers and less pay, while some teams just don't want them. Using statistics covering forty years, Sirois shatters those tenacious myths such as "Quebecers are smaller," "they play poor defensive hockey" or "they are the best goalies." His solutions: an NHL team for Quebec City and a Quebec national junior team for international events. Bob Sirois' search for the truth can only enhance our great sport.
"I agree with Bob Sirois' conclusions. The many statistics are interesting and troubling. With firsthand experience, I can say that it reflects reality exactly."— Michel Bergeron, Former NHL coach (NY Rangers, Quebec Nordiques)
"This seems to be strong material and worth serious study by the NHL."— Stu Hackel, New York Times
****
You could lose an eye, My first 80 years in Montreal
by David Reich (November 2010)
ISBN 978-1-926824-03-1; 200 pp; $22.95
"You Could Lose an Eye" is the expression David Reich's mother often used for those she loved. It is the story of a family's transition from the wretched oppression they left behind when they arrived in Quebec, where they had only to learn new languages and adapt to a new political, economic and not always welcoming social culture. It recounts the laughter and the tears, the triumphs and the failures as Ma established her dynasty, as Pa built his business and as their firstborn carved an architectural career. All was possible for those who took root in a free world. They were the fortunate ones who were allowed to aspire and succeed, and to keep alive the memories of those who were denied entry and paid the ultimate price for being Jews.
An inspiring, sometimes heart-rending, life story told by a man whose tongue is always in his cheek. With photos and illustrations.