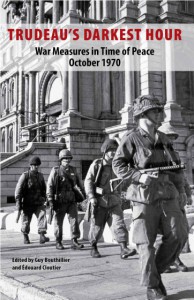 At the invitation of Gilles Duceppe, Leader of the Bloc Québécois, Guy Bouthillier and Édouard Cloutier presented their new anthology Trudeau's Darkest Hour, War Measures in Time of Peace October 1970 in the Parliament buildings on Thursday October 21. For Guy Bouthillier, it was an important symbolic gesture forty years after the fact to present this book of texts and speeches by some twenty-five eminent English Canadians about the decision made in the Parliament of Canada on October 16, 1970  to suspend the Constitution and all civil liberties and to send 12,500 troops into Quebec.
Édouard Cloutier pointed out that in October 1970, more troops were deployed in Quebec than in Dieppe, a major military operation carried out in 1942. He also saluted the memory of Tommy Douglas, former leader of the New Democratic Party who, from the very start, refused to support the Trudeau Government when it invoked the War Measures Act. As former Trudeau minister Eric Kierans wrote, "He showed political courage of the highest order."
Guy Bouthillier and Édouard Cloutier both thanked Bloc Leader Gilles Duceppe for inviting them to present the book to parliamentarians. They added that those who do not remember the past are condemned to repeat it.
Order Trudeau's Darkest Hour now.
Read Guy Bouthillier's article in Counterpunch War Measures in Time of Peace October 1970
212 pages: Paperback $19.95 ISBN 978-1-926824-04-8