After Stephen Gowans's pivotal book Washington's Long War on Syria, Baraka Books is proud to announce that that his new book Patriots, Traitors and Empires: The Story of Korea's Fight for Freedom will appear in Spring 2018. It will be available for pre-order by Dec. 1, 2017. So keep an eye out. Here is a short preview of the book that Stephen prepared for his blog What's Left.
---
Patriots, Traitors and Empires: The Story of Korea's Fight for Freedom
Koreans have been fighting a civil war since 1932, when Kim Il Sung, the founder of the Democratic People's Republic of Korea, along with other Korean patriots, launched a guerrilla war against Japanese colonial domination. Other Koreans, traitors to the cause of Korea's freedom, including a future South Korean president, joined the side of Japan's empire, becoming officers in the Japanese army or enlisting in the hated colonial police force.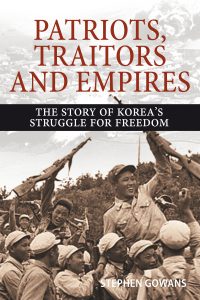 But even before there was a civil war, Koreans fought for their freedom. From the early years of the twentieth century, when Japan incorporated Korea into its burgeoning empire, Koreans struggled against foreign domination, both that of Japan and the United States. At times they protested peacefully. At other times they rioted, launched insurrections, and fought sustained guerrilla wars. And after the United States engineered the politcal division of their country, they fought a conventional war, from 1950-1953, which cost three million Koreans their lives.
When the Japanese Empire collapsed in 1945, Koreans erupted in joy, quickly organizing an independent state, the Korean People's Republic, to usher in the freedom they had long struggled for. But their joy quickly turned to bitterness as the United States refused to recognize the new republic, and soon declared war on it.
Koreans hungered for self-determination, land reform, and an economy directed to local needs, and they turned to communists as leaders, who had established great moral authority in the anti-colonial struggle for freedom, and looked to the Soviet Union for inspiration.
But a communist Korea failed to comport with the aspirations of US policy planners, mainly Wall Street lawyers and bankers, who sought a world in which US corporations and investors would be free to scour the globe in search of lucrative trade and investment opportunities. A Korea which handed control of the country's land, resources, and factories to farmers, cooperatives and state-owned enterprises clashed sharply with the planners' agenda.
In Patriots, Traitors and Empires: The Story of Korea's Fight for Freedom, Stephen Gowans explores the fight of Korean patriots for freedom against the empires and traitors who opposed them, starting in 1905 and following the struggle through the Korean War to North Korea's efforts to become a nuclear weapons-state, invulnerable to attack by the United States.
If you haven't read his book Washington's Long War on Syria, click on the cover below: