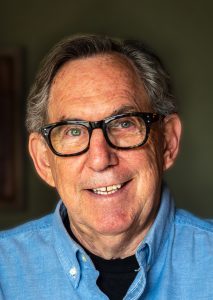 Baraka Books was very sad to learn that Richard King passed away on Jan. 4, 2022. His was a life devoted to books, as bookseller, book reviewer, bookseller and more. He was the author of great mystery novels and biographies. A renowned bookseller, he co-founded Paragraphe Bookstore in Montreal and held the position of President of the Canadian Booksellers Association. His regular books column at CBC was appreciated by authors, publishers and listeners because his comments and suggestions were always sharp, enlightening, witty and inspiring.
As publisher of Baraka Books, I had the pleasure of meeting him in 2019 when he proposed that we publish his series that came to be called, The Nurse Annie Linton, Detective Gilles Bellechasse Mystery Novels. We had never published a mystery novel before.
In addition to being a tribute to nurses and health-care workers, this series showcases the great city of Montreal that Richard loved very much. Fortunately, Richard had finished the third instalment Serving Life which will be published on April 1, 2022. From our communications in early December, it was clear the Richard had many projects yet to be completed.
On behalf of Baraka Books, who has had the privilege of working with Richard for the past three years, I would like to extend my most sincere condolences to his family and to his many close friends.
For more information about Richard King, please see his obituary.
Robin Philpot, Publisher