(Montréal, Oct. 1, 2018) The Scoitabank Giller Prize has announced that SONGS FOR THE COLD OF HEART is one of 5 finalists for the Giller Prize. Baraka Books would like to formally congratulate Eric Dupont, author of Songs for the Cold of Heart, and Peter McCambridge, who translated the novel and is also fiction editor at QC Fiction. The Scotiabank Giller Prize is the top literary award in Canada and it is a great honour to be on the shortlist.

"We are thrilled to see the flair and hard work paying off, particularly that of translator and fiction editor Peter McCambridge," said Robin Philpot, publisher of Baraka Books. "Peter and his team put a lot of time and effort into polishing our translations and we genuinely aim for them to be as fluid and as flawless as possible. These are exciting times for Quebec literature in translation and we're excited to be part of it all."

Originally published by Marchand de feuilles of Montreal as La Fiancée américaine, Songs for the Cold of Heart was an immediate bestseller in French. It is a feat of storytelling and a solid fit with QC Fiction's mandate of bringing beautifully written, page-turning stories to readers around the world.

"At QC Fiction, we pride ourselves on doing things differently," says translator and fiction editor Peter McCambridge. "We were set up to bring a new generation of voices to the English-speaking world. But also to have these new voices brought into English by a new wave of young, and equally talented translators. This honour is a welcome sign that we're on the right track."

QC Fiction has published three novels in translation a year since the adventure began in June 2016 with Eric Dupont's Life in the Court of Matane (also translated by Peter McCambridge). Two of its first 7 books have drawn praise from Canada's leading literary awards: first Katia Grubisic's translation of Brothers by David Clerson, a finalist for the 2017 Governor General's Literary Award for Translation, and now the Giller shortlist for Songs for the Cold of Heart.
Masterful… heartbreaking and hilarious" (Publishers Weekly)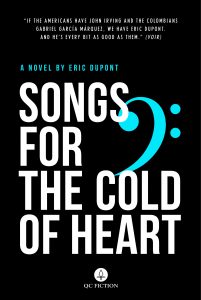 "Highly recommended" (Library Journal)
"This book manages to capture the cultural zeitgeist of Quebec culture in the twentieth century. It reminded me of all the great French Canadian novels I read as a child, but pushed them to new, delightful, hilarious, epic levels. (…) I dare you not to read the first three pages and fall in love." (Heather O'Neill, jury member, 2018 Giller Prize)
"With literary talent as well as peculiar imagination, Eric Dupont has long been hailed as spearheading the Québécois literary revival, and in this English translation of his runaway best-seller La Fiancée américaine, we can see why." (World Literature Today)
Baraka Books  and QC Fiction thank the SODEC for support in funding part of the translation and the promotion, the Quebec Government for its tax credit program, the Canada Book Fund for support in our publishing program and the Canada Council for supporting our Literary Publishing Project.

About QC Fiction
QC Fiction is an imprint from Baraka Books of Montreal. It brings readers of English around the world the very best of a new generation of Quebec storytellers, sharing surprising, interesting novels in flawless English translation from a new generation of translators.

About Baraka Books
Baraka Books is a Quebec-based English-language press publishing progressive books with an accent on Québec.

About the prize
The 2018 Scotiabank Giller Prize jury announced its shortlist on Monday, October 1, 2018. The five titles were chosen from a field of 104 books submitted by publishers all across Canada. Jury members were Heather O'Neill, John Freeman, Kamal Al-Solyalee (Jury Chair), Maxine Bailey, and Philip Hensher. The winner will be announced on November 19.
– 30 –

Source: Robin Philpot, Publisher, 514-808-8504: info@barakabooks.com