The Complete Muhammad Ali by Ishmael Reed will be available in July 2015.  Here he talks about the book.
Ishmael Reed describes this book as "The Complete Muhammad Ali" because most of the hundred odd books about the Champion are "either too adoring or make excessively negative assertions." One biography, for instance, blames Ali, along with Gerald Ford, for losing Vietnam, another calls him a "malicious buffoon," while others—The Ali Scribes—make him into a Saint.
The Complete Muhammad Ali charts Ali's evolution from Black Nationalism to a universalism, but gives due credit to the Nation of Islam's and Black Nationalism's important influence on Ali's intellectual development. Instead of being dismissed as "Lunatics" and "thugs," Black Nationalists and Nation of Islam members are given a chance to speak up. There is something to the remark made by Sam X, who introduced Ali to the Nation of Islam. He said that without Ali's mentor Elijah Muhammad, nobody would ever have heard of Muhammad Ali.
Among the many voices omitted from other books, Filipino American writer Emil Guillermo, for instance, recounts how "The Thrilla' in Manila" brought the Philippines into the twentieth century.
More than a biography, The Complete Muhammad Ali is a fascinating portrait of the twentieth century and the beginning of the twenty-first.
The book includes more than 30 previously unpublished photos.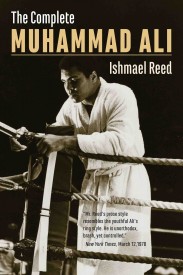 Ishmael Reed is a prize-winning essayist, novelist, poet and playwright. He taught at the University of California-Berkeley for thirty-five years, as well as at Harvard, Yale and Dartmouth. Author of more than twenty-five books, he is a member of Harvard's Signet Society and Yale's Calhoun Society. He lives in Oakland, California.
Other books by Ishmael Reed published by Baraka Books include Barack Obama and the Jim Crow Media, The Return of the Nigger Breakers and Going Too Far, Essays on America's Nervous Breakdown.