Oyé Oyé – Baraka Books vous invite chez l'Euguélionne
Lancement / Launch
2 livres féministes importants / 2 important feminist books
 THROUGH THE MILL
Girls and Women in the Quebec Cotton Textile Industry 1881-1951
de Gail Cuthbert Brandt
MOTHERHOOD, The Mother of All Sexism
A Plea for Parental Equality
de Marilyse Hamelin (Tr. Arielle Aaronson)
Le mercredi 21 novembre | 17 h 30 à 19 h 30
Librairie féministe L'Euguélionne
1426, rue Beaudry, Montréal
Les deux auteures seront présentes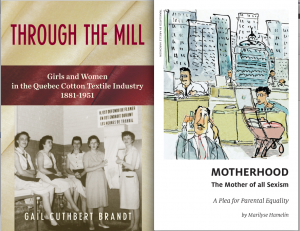 THROUGH THE MILL
Girls and Women in the Quebec Cotton Textile Industry 1881-1951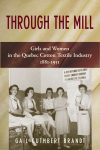 Les filles et les femmes ont joué un rôle essentiel dans l'industrialisation du Canada, particulièrement dans l'industrie du textile concentrée au Québec. Through the Mill est une contribution remarquable à l'histoire ouvrière et féministe. Il s'agit de l'une des rares études à analyser la vie des ouvrières industrielles ici. Au cœur de ce livre : 84 ouvrières du textile, nées entre 1895 et 1934, parlent librement à l'auteure de leur vie d'ouvrière, des conditions du travail, et plus.
Girls and women were essential to industrialization in Canada, particularly in the textile industry, concentrated in Quebec. Through the Mill is an remarkable contribution to feminist labour history and one of the few studies to analyze the lives of women industrial workers here. At the core of the book: 84 women textile workers born between 1895 and 1934 spoke freely with the author in the early 80s about their lives as workers, their working conditions and much more.
NOTE: Through the Mill paraît en anglais seulement. Baraka vous informera d'une éventuelle édition en français.
MOTHERHOOD
The Mother of All Sexism
A Plea for Parental Equality *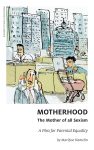 Le Québec gâte les familles, clament certains. De longs congés parentaux – un an, Imagine! – des services de gardes subventionnés et + et +. Malgré des progrès réalisés, comparés à d'autres, les solutions bancales ne sont pas des solutions. Les femmes méritent mieux et s'attendent à mieux. Pourquoi le milieu du travail ne s'adapte-t-il pas aux besoins et aux aspirations des mères, mais aussi des pères? D'où vient cette inégalité persistante entre les femmes et les hommes? Marilyse répond à ces questions et à bien d'autres.
Quebec spoils its families, according to some, with those "long" parental leaves—a full year for mothers (Imagine!)—well-subsidized childcare and +. Despite progress made, as compared with others, stop-gap measures are not the answer, states Marilyse. Women deserve and expect more. Why can't the labour market be adapted to meet the needs of mothers—and fathers? What causes the lasting inequality between men and women? Marilyse answers these questions and many more.
* Maternité, La face cachée du sexisme, Plaidoyer pour l'égalité parentale (Leméac, 2017)