Baraka Books is proud to announce that Jacques Parizeau's book An Independent Quebec, The Past, the Present and the Future will appear in English in May 2010. The original French book (La souveraineté du Québec, Hier, aujourd'hui et demain) has been on Quebec bestsellers lists since November 2009: 40,000 copies sold in five months!
For the first time in English, Jacques Parizeau shares his views on Quebec's recent history and future. English-speaking readers will understand why he is so respected in Quebec. The questions he raises and the answers he provides are of interest to Quebecers and Canadians alike. People will see Mr. Parizeau in an entirely new light.
As chief economics advisor to Quebec premiers in the 1960s, Jacques Parizeau was instrumental in bringing about Quebec's Quiet Revolution. As René Lévesque's Finance Minister from 1976 through 1984, he showed that sovereigntists could govern Quebec and ensure economic viability. As Premier, he brought Quebec close to sovereignty in the 1995 referendum. In 2010, he still represents an idea shared by millions in Quebec.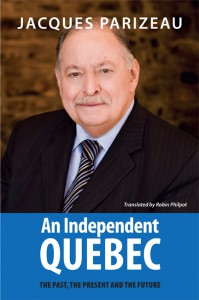 Drawing on his rich experience in public service and teaching, Jacques Parizeau explains how the idea of an independent Quebec took root and evolved, examines Quebec's current economic, political, social and cultural situation, and reviews options for future development.
No stones are left unturned. Why become independent? What is the role of the State and how should it be administered in a global economy? What are the challenges in the 21st century? The financial crisis? The Environment?
What challenges face Quebec sovereigntists and their English Canadian counterparts?
Jacques Parizeau holds a PhD in economics from the London School of Economics. Professor of Economics at HEC Montréal, Mr. Parizeau was economic advisor to Quebec premiers Lesage, Johnson and Bertrand during the Quiet Revolution, Minister of Finance under René Lévesque (1976-1984) and Premier of Quebec 1994-1996. He led the YES Committee during the 1995 Quebec referendum.
Praise for the book
"On all issues, Jacques Parizeau has interesting things to say. (…) Overall, it is the book of a leading civil servant, a major actor in the Quiet Revolution, and an extraordinary politician. His ideas, whether we share them or not, deserve our respect. There are too many mediocre politicians for us not to welcome the idea that a politician is also a thinker." — Alain Dubuc, La Presse
"What Parizeau brilliantly illustrates is that today 'no country is too small to develop as long as it is part of large trade space or market.'" — Louis Cornellier, Le Devoir.
An Independent Quebec, The Past, the Present and the Future
The original French book is entitled La souveraineté du Québec, Hier, aujourd'hui et demain (Les éditions Michel Brûlé – November 2009).
244 pages | available May 15, 2010 | Trade paper | $24.95 | ISBN 978-0-9812405-6-5