GOING TOO FAR, ESSAYS ABOUT AMERICA'S NERVOUS BREAKDOWN by Ishmael Reed: Available, Ebook and tradepaper ($19.95)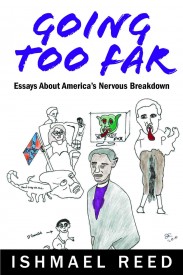 "Reed's tendency to go too far has not diminished."—Paul Devlin, The San Francisco Chronicle
"A courageous American man of letters, one who, if he lived in most places in the world, would be a martyr by now."—Hakim Hasan, The San Francisco Chronicle
Ishmael Reed will be in Montreal October 12-14 to launch Going Too Far. Details on the launch will be available soon.
"Ishmael Reed is a buzz-saw. He ambushes arguments from ever-unpredictable angles forcing the rest of us, whatever our politics, to acknowledge not just his passion but the fierceness of his intellect."  Trey Ellis, author of Platitudes, Home Repairs, and "The New Black Aesthetic."
"Just when you think that Reed is exaggerating, or being one-dimensional in his analysis of racial issues, he'll open another page of American history and show you something new."
David Homel, Montreal, Rover Arts
_______________
THE ORPHANAGE by Richard Bergeron (translated by Peter McCambridge):  Available , Ebook and tradepaper ($12,95)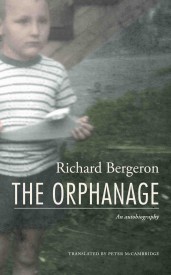 "I was a big boy. Soon, I would be four years old. The four of us—the four oldest—were in the back seat of our father's car. The baby was just six months old. He wasn't with us. (…) everything felt heavy and sad. We could feel it from the back seat. We didn't dare move, didn't dare open our mouths. But where were we going anyway? They must have told us, the older children, but we didn't understand…
"As in all concentration-camp systems," recalls Richard Bergeron in this short but moving story, daily life was dull and repetitive. Sometimes for some people it's fun, or at least tolerable. For others, it is unbearable. But this tale does not settle old scores or vent bitterness, it simply recounts how Richard Bergeron began the rest of his life.
Richard Bergeron is an architect and city planner and a Montreal City Councillor. He leads Projet Montréal.
_______________
SLOUCHING TOWARDS SIRTE, NATO'S WAR ON LIBYA AND AFRICA by Maximilian Forte, November 10; Ebook and tradepaper, 320 pp ($27.95) Special Pre-order discount: $20 til Nov. 20; buy now
NATO's war in Libya was proclaimed as a humanitarian intervention—bombing in the name of "saving lives." Attempts at diplomacy were stifled. Peace talks were subverted. Libya was barred from representing itself at the UN, where shadowy NGOs and "human rights" groups held full sway in propagating exaggerations, outright falsehoods, and racial fear mongering that served to sanction atrocities and ethnic cleansing in the name of democracy. The rush to war was far speedier than Bush's invasion of Iraq.
Max Forte has scrutinized the documentary history from before, during, and after the war. He argues that it was not about human rights, nor entirely about oil, but about a larger process of militarizing U.S. relations with Africa. The development of the Pentagon's AFRICOM is seen to be in competition with Pan-Africanist initiatives such as those spearheaded by Muammar Gaddafi.
Far from the success NATO boasts about or the "high watermark" proclaimed by proponents of the "Responsibility to Protect," this war has left the once prosperous, independent and defiant Libya in ruin, dependency and prolonged civil strife.
Maximilian C. Forte is Associate Professor of Anthropology at Concordia University, Montreal, Quebec.
_____________
WASHIKA, A Novel, by Robert A. Poirier, November 8; Ebook and tradepaper ($24.95)
It's summer sometime in the '60s. Twenty-one testosterone-drenched high school graduates are bussed into Washika Bay, a Company logging camp where they will work for the summer. Idealistic, confident, sometimes troubled, they meet their matches in tough older bush workers, a devastating forest fire, sand flies and leeches, and occasionally beautiful young women, especially on weekends in their hometown. Henri Morin is particularly sensitive and, though a hard worker, he appears to harbour dark thoughts. Washika Bay has a profound effect on him. In no other place could the transition from adolescence to adulthood be the same.
Robert Poirier has created characters that readers will never forget, and through them and their experiences, he has revived an era and inspired new life into a wild and beautiful place.
Robert A. Poirier runs a wild animal rehabilitation centre, treating and caring for all species of fauna. Previously, he cofounded an ambulance cooperative and taught high school science. Fluent in English and French, he now studying Algonquin and has embraced Anishinabeg spiritual practices. He lives on his land near Maniwaki, Quebec.
____________
THE ADVENTURES OF RADISSON 1, HELL NEVER BURNS, by Martin Fournier (translated by Peter McCambridge): November 15; Ebook and tradepaper ($19.95)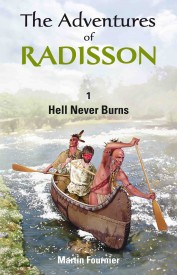 Spring 1651: a young man from Paris lands in Trois-Rivières on the St. Lawrence River. Within weeks, the course of his life changes dramatically when Iroquois braves capture him. Pierre-Esprit Radisson, then only fifteen years old, begins a new life. Canoeing across rivers and lakes and portaging over mountains, Radisson's captors take him to distant lands where first they torture him, then adopt him as a brother.
In this first tome of the adventures of North America's most famous coureur des bois, readers voyage into the heart of a continent's history in an era of bravery and heroism. Newcomers from France and indigen­ous peoples meet, sometimes as friends and allies, sometimes as bitter enemies. Martin Fournier brings to bear his impassioned story-telling skills and historian's rigour to produce a novel that is a thrilling read from start to finish.
"Ganaha, the kindly Iroquois who was in a way his personal protector saw to it that he came to no harm. Though he believed his odds of survival to be slim indeed, hope again began to stir in his heart. On the morning of the fourth day, Ganaha painted half of Radisson's face red and the other half black. Then, his captors clambered back into their canoes and paddled south, along a broad river. (…) his fate remained in the balance: black for death, red for life."
Martin Fournier won the Governor General's Award for the original French version of The Adventures of Radisson, 1. Both historian (PhD) and writer, he is Project Coordinator and Editor of the Encyclopedia of French Cultural Herit­age in North America. His nonfiction has focused on Radisson and day-to-day life in New France.