Baraka Books is proud to announce that Briefing Press, a division of And Publishing Ltd. of Taipei City has acquired the Chinese-language rights (Taiwan) to Stephen Gowans' forthcoming Washington's Long War on Syria.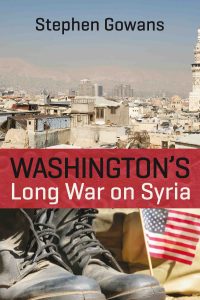 Stephen Gowans' book  will appear in North America in English on April 17.  Gowans debunks the myths and arguments advanced by Washington, its allies, and much of the mainstream media to justify what is unjustifiable and illegal, namely regime change. These include, for example, the myths of the "moderate rebel" and the so-called "popular uprising" of 2011. He also reveals Washington's unholy alliances with the royal dictatorships (Saudi Arabia, Qatar) and their proxy terrorist mercenaries who claim to represent Islam.
Stephen Gowans lives in Ottawa and runs the widely read blog What's Left. Washington's Long War on Syria can be pre-ordered here.
– 30 –
Source:          Baraka Books
514-808-8504 (info@barakabooks.com)