The Franz Boas Enigma
Inuit, Arctic, and Sciences
by Ludger Müller-Wille
"… Franz Boas has remained an enigma, so misunderstood as a person and so often misrepresented as an anthropologist." William S. Willis, Jr.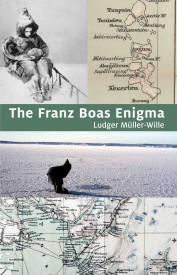 How did Franz Boas become the central founder of anthropology and a driving force promoting science in public life in North America? To answer this question, linguistic and cultural barriers must be overcome to grasp the importance of Boas's personal background and academic achievements as a German Jew. Müller-Wille asserts that the key is in his publications in German on Inuit and the Arctic as related to environmental, geographical, and ethnological questions. These writings have remained largely unknown and neglected in the English-speaking world, yet they represent his emerging scientific interpretations of Inuit culture and the Arctic. They also provide insight into the crucial period of Inuit history 130 years ago at a time of European and North American colonial expansion into their homeland.
"And what I want, what I will live and die for, is equal rights for all, equal opportunities to work and strive for poor and rich! Don't you think that when one has done even a little toward this, this is more than the whole of science together?" Franz Boas, Baffin Land, 22 January 1884
Ludger Müller-Wille is a Montreal anthropologist and geographer who taught at McGill University for thirty years. Author and editor of books and articles on Franz Boas, he has conducted extensive research in the Arctic and Subarctic among Sámi and Finns in Finland and Inuit, Dene, and Naskapi in Canada.
Foreword by Rosemary Lévy Zumwalt
Trade Paper | 188 pp | 38 figures (photos, maps, sketches) | $24.95 ISBN 978-1-77186-001-7 pbk; 978177186-014-7 epub; 978177186-015-4 pdf; 978177186-016-1 mobi/kindle