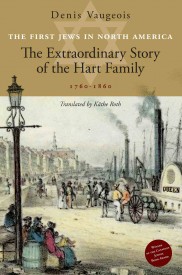 (22 Septembre 2014) The First Jews in North America, The Extraordinary Story of the Hart Family 1760-1860 by Denis Vaugeois, translated by Käthe Roth has won the Translation Award for a Book on a Jewish Theme, which is one of the Prestigious Segal 2014 Book Awards.
Käthe Roth will receive the award at a public ceremony on Wednesday, November 12, 2014, at 7:30 p.m. in the Gelber Conference Centre, 1 Cummings Square, Montreal.
The First Jews in North America was published in 2012, just one year after the original French book appeared, which won the Canadian Jewish Book Award in 2012.

A Montreal translator with a vast experience, Käthe Roth has worked together with Denis Vaugeois on many important history books. She and Denis Vaugeois also teamed up on America's Gift What the World Owes to the Americas and their First Inhabitants (Baraka Books, 2009).
Congratulations Käthe.