Baraka Books is pleased to announce that The Raids, Vol. I of The Nickel Range Trilogy, by Mick Lowe of Sudbury will be published in German by Verlag Edition AV in time for the Frankfurt 2020 Book Fair which will showcase literature from Canada.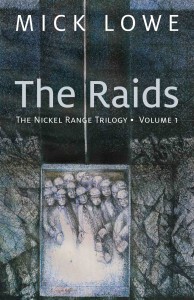 "We are very encouraged by the international interest in this great working class story with its backdrop of Cold War scheming and brutality," said Robin Philpot, publisher of Baraka Books. "Mick Lowe has brought to life a cast of characters from Sudbury's hard-rock nickel mines in the 1960s and a story based on real events that might otherwise have disappeared from our memory."
Andreas W. Hohman of Verlag Édition AV added: "We at Verlag Edition AV are delighted to have finalized a contract with Baraka Books to translate into German the title The Raids: The Nickel Range Trilogy, Volume 1 by Mick Lowe. We are planning to launch the German edition in time for the Frankfurt Bookfair 2020, when Canada will be the Guest of Honour at the bookfair. The book is a great addition to a number of books by Canadian authors that we have published in recent years."
Following The Raids (2014), Baraka published Vol. II The Insatiable Maw (2015), which tells how Sudbury miners and smelter workers fought the company in the early 1970s to clean up the poisonous air they had to breathe and at the same time change the city's lunar landscape from red-brown to GREEN. Wintersong (2017), third and final volume of The Nickel Range Trilogy, is a fictionalized account of the epic 1978-79 strike pitting some 12,000 workers and their families against the nickel giant Inco. Covers art and illustrations are by Sudbury artist Oryst Sawchuk.
Mick Lowe, born in the United States, is a prolific journalist, writer and newspaper columnist who adopted Sudbury as his home.
Baraka Books is a Quebec-based English language publisher specializing in creative and political non-fiction and fiction. QC Fiction, headed by Fiction Editor Peter McCambridge, is our imprint dedicated to publishing the very best of a new generation of Quebec storytellers in flawless English translation.
– 30 –
Source:   Robin Philpot – Baraka Books
514-808-8504 (info@barakabooks.com)