Description
"Trayvon Martin could have been me 35 years ago." — Barack Obama.
If you want to understand the context of Trayvon Martin's murder and George Zimmerman's acquittal, read this book. — The Publisher
For Ishmael Reed, Barack Obama, like Michelangelo's St. Anthony, is a tormented man, haunted by modern reincarnations of the demonic spirits used to break slaves. These were the "Nigger Breakers"—men like Edward Covey, who was handed the job of breaking Frederick Douglass. "Isn't it ironic," writes Reed: "A media that scolded the Jim Crow South in the 1960s now finds itself hosting the bird." In this collection, which includes several unpublished essays, Ishmael Reed brings to bear his grasp of the four-centuries-long African-American experience as he turns his penetrating gaze on Barack Obama's election and first year in power—establishing himself as the conscience of a country that was once moved by Martin Luther King's dream.
Editorial Reviews
"Amazed at the many fronts on which [Ishmael Reed] has gathered little-reported facts…. I hope his book will lead to more journalistic self-reflection and intellectual honesty. "
— Werner Sollors, Professor of English Literature and of African and African American Studies, Harvard University
"Brilliant." Jill Nelson, journalist, novelist, American Book Award winner.
"Just when you think that Reed is exaggerating, or being one-dimensional in his analysis of racial issues, he'll open another page of American history and show you something new."
– David Homel, novelist, translator, Rover Arts, Montreal
Call HIm Ishmael – Rover Arts
"Ishmael Reed's Barack Obama and the Jim Crow Media, The Return of the Nigger Breakers offers many prescient insights into the miasma that is "post-race" United States. (…) There is brutal candour in Reed's argument, which often feels refreshing in light of the euphemisms and platitudes typically expressed in both polite discourse and the media's self-scrutiny. (…) Whether or not one agrees with Reed, one can only be entertained by his gleeful barbs and edgy turns-of-phrase. He names names and shames with derision."– Caroline Brown, Professor of English, Université de Montréal for Montreal Review of Books, Summer 2010. Read the Montreal Review of Books feature…
About Ishmael Reed
"In the past 40 years, Reed has published more than 20 books and has also made his mark as an editor, publisher, critic, journalist, songwriter, librettist and fearsome letter-to-the-editor writer…. Reed is among the most American of American writers, if by 'American' we mean a quality defined by its indefinability and its perpetual transformations as new ideas, influences and traditions enter our cultural conversation."
— The New York Times
"With Ishmael Reed, the most persistent myths and prejudice crumble under powerful unrelenting jabs and razor-sharp insight."
— Le Devoir, Montreal
"Among American writers, Ishmael Reed is probably the one
whose sensibility is closest to jazz."
— The New York Times
ISBN 9780981240572 (Paperback)   $19.95
ISBN 9780981240596 (Hardcover)   $39.95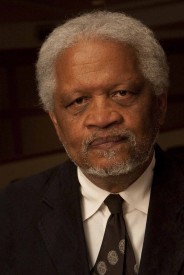 Ishmael Reed is an essayist, novelist, poet and playwright, and a prize-winner in all categories. He taught at the University of California (Berkeley) for thirty-five years, as well as at Harvard, Yale and Dartmouth. Reed is a member of Harvard's Signet Society and Yale's Calhoun Society. He lives in Oakland, California.
Ishmael Reed talks about this book with Phil Taylor of the Taylor Report
Listen to interview with Ishmael Reed on KPFA Berkeley (min 32-60)
Visited 10433 times , 4 Visits today