Description
"a must-read." PBS/Book View Now
"…it will become the truly definitive book on Muhammad Ali." Professor Sam Hamod, PhD
"twelve solid rounds of writing… stands above its competition." Ron Jacobs, Counterpunch
More than a biography and 'bigger than boxing', The Complete Muhammad Ali is a fascinating portrait of the twentieth century and the beginning of the twenty-first. Ishmael Reed calls it The Complete Muhammad Ali because most of the hundred odd books about the Champion are "either too adoring or make excessively negative assertions." They also omit many voices that deserve to be heard.
Ishmael Reed charts Muhammad Ali's evolution from Black Nationalism to universalism, but gives due credit to the Nation's of Islam's and Black Nationalism's important influence on Ali's intellectual development. People who led these organizations are given a chance to speak up. Sam X, who introduced Ali to the Nation of Islam, said that without his mentor Elijah Muhammad, nobody would ever have heard of Ali. That remark cannot be ignored.
Reed, an accomplished poet, novelist, essayist and playwright, casts his inquisitive eye on a man who came to represent the aspirations of so many people worldwide and so many causes. He also brings to bear his own experience as an African American public figure, born in the South in the same period, as well as an encyclopaedic grasp of American history.
People interviewed include Marvin X, Harry Belafonte, Hugh Masakela, Jack Newfield, Ed Hughes, Emmanuel Steward, Amiri Baraka, Agieb Bilal, Emil Guillermo, Khalilah Ali, Quincy Troupe, Rahaman Ali, Melvin Van Peebles, Ray Robinson, Jr., Ed Hughes, Jesse Jackson, Martin Wyatt, Bennett Johnson, Stanley Crouch, Bobby Seale, and many more.
Reed also places the Muhammad Ali phenomenon in the history of boxing and boxers from before the times of Jack Johnson, through Joe Louis and Archie Moore to Floyd Mayweather. He also includes Canadian fights and fighters like Tommy Burns, George Chuvalo and Yvon Durelle.
"The Heavyweight Championship of the World," wrote Reed in a 1976 Village Voice headline article shortly after third Ali-Norton fight, "is a sex show, a fashion show, scene of intrigue between different religions, politics, classes; a gathering of stars, ex-stars, their hangers-on, and hangers-on assistants."
The author of the much cited Writin' is Fightin' has now produced what will likely be known not only as The Complete Muhammad Ali but also "the definitive Muhammad Ali."
Praise
"In The Complete Muhammad Ali, Ishmael Reed reveals fresh information and dozens of new ideas about a subject whose meaning has become increasingly difficult to tap. This book is definitely worth your time." — Michael Ezra, author, Muhammad Ali: The Making of an Icon
"The pre-eminent African American novelist, essayist, and poet Ishmael Reed's latest book, The Complete Muhammad Ali, stands as one of Reed's most important projects to date . . . if you want to engage with the spirit of the man [Ali] in his time, and get punched by the prose of one of our greatest living writers, The Complete Muhammad Ali is the book for you." —Brian Flota, thehairsplitter.com
"This expansive masterpiece . . . There are so many new revelations about Elijah Muhammad, Muhammad Ali, the Nation of Islam, and Black Nationalism to praise The Complete Muhammad Ali about. Suffice it to say that Reed's book is a masterful contribution to our understanding and appreciation of the legacy of Muhammad Ali, Elijah Muhammad, the Nation of Islam, Black Nationalism, and what it means to be a black athlete or sports person in America." — Pierre-Damien Mvuyekure, Professor, Northern Iowa University. Counterpunch
"Muhammad Ali was a one man Boxer Rebellion, the fighter who did the rare thing of changing minds and hearts by challenging racism and empire at the risk of fame and fortune. Like Haley's Comet, such a person doesn't come around often, people everywhere felt better knowing he was there. So who is he really? You got to read Ishmael Reed's The Complete Muhammad Ali to get an idea. Ishmael is a veteran fighter/writer, with success in several divisions (poetry, novels, music) and more likely to get it right than the corporate journalists or established fight crowd. Reed is like the journeyman champ Archie Moore: cagey, unorthodox, able to land a punch from unexpected directions. Insights from the Honorable Elijah Muhammad, Willie Pep, Miles Davis, and the man who first sold Ali Muhammad Speaks. This is the book that answers the questions about 'the Greatest'." — Phil Taylor, The Taylor Report, CIUT, Toronto
"great book, a lot of hard work, and I know that it will become the truly definitive book on Muhammad Ali." — Professor Sam Hamod, PhD; Former Director of The Islamic Center, Washington, DC
---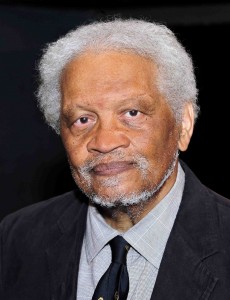 Ishmael Reed is a prize-winning essayist, novelist, poet and playwright. He taught at the University of California-Berkeley for thirty-five years, as well as at Harvard, Yale and Dartmouth. Author of more than twenty-five books, he is a member of Harvard's Signet Society and Yale's Calhoun Society. He lives in Oakland, California.
Visited 14175 times , 1 Visits today