Description
Shaf, a physics teacher and a philosopher, fought as a partisan in the Balkans during the Second World War. He has not been heard from for 40 years. How could such an ubiquitous and expansive person disappear? Did the murder of his mother and girlfriend Nika by fascists during the War spark his sporadic displays of insanity? Rumours had him teaching in the United States and Europe during the Cold War.
Ben, Shaf's former student and Nika's brother, has never given up looking for him. He finally meets up with Shaf in his home town, where they first met. The encounter does not turn out as expected.
Set in Sabzic, a fictitious town in an unnamed country in the Balkans, Shaf and the Remington chronicles the lives of a family, a people, a town and a nation, from dawn at the time of the first great War to dusk as the Cold War sputters to an end.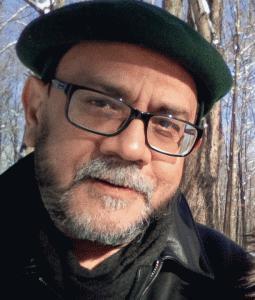 Rana Bose is an award-winning novelist, playwright, poet, and dramaturge. He has written four novels, including Fog (2019), winner of The Miramichi Reader's 2019 Best Canadian Fiction Award. His plays have been published and performed in Canada and the United States. Founding editor of Montreal Serai, Rana Bose lives in Montreal.
---
In the media
"Rana Bose's Shaf and the Remington is a stunning accomplishment. … Bose masterfully incorporates history, politics, philosophy, and physics into this gripping novel, transporting the reader to a place where time and space seem to bend and refract. Shaf and the Remington is an allegory of human nature, asking us to question the essence and roots of war and ideology."
Val Rwigema, Montreal Review of Books
"Set in the fictitious town of Sabzic in what is clearly Yugoslavia but never identified as such, Bose relates the personal stories of Ben and Shaf against the backdrop of invading panzer divisions and local partisans. But this is in no way historical fiction. Rather, it is an allegory to the forces of human nature, which pit the petty desire to divide against the will to unite. … [Rana Bose] would certainly merit a place in Canada's pantheon of outstanding writers." Ian Thomas Shaw, The Ottawa Review of Books.
"This is a book about ideas, about the Balkan States pre- and post-Yugoslavia, about whether a country of mixed cultures, races, and religions can survive and thrive. Not a light read, but a profound one. (…) readers will come through the experience pondering the big questions, realizing how hard it is to answer them. An impressive work."  Elizabeth Caulfield Felt, The Historical Novel Society 
Praise
"The characters are so full of life, distinct and engaging. The structure is perfect. I loved the artful ending. All is tied up but in a light, electric way. Nothing is heavy-handed. The themes are so prescient. A brilliant exploration of 'the end of an era'—the post-war truce between races, religions and ideologies. I thank you for restoring my faith in the novel. In addition to being a fiercely intelligent political novel, the prose is luscious." Marianne Ackerman, novelist, playwright, and journalist, author of Mankind and Other Stories of Women
"This is a gripping, exuberantly written tale, mixing genres and vocabularies, tracking the elusive dream of interethnic harmony.   Rana Bose's story is beautiful and wise." Sherry Simon, Canada Chair in Translation and Cultural History, Director of Concordia's Interdisciplinary PhD in Humanities Program, author of The City in Translation: "Urban Cultures of Central Europe"
"Masterfully crafted, the final pages of the book compel the reader to start over again." Nilambri Ghai, founding member and editor of Montréal Serai, author of From Johanne to Janaki: Bringing Vikings to Varanasi.
---
Pub date: Sep 1. Free shipping in North America
Visited 2257 times , 1 Visits today