Description
"It's the novel Malcolm X might have written had he not suffered martyrdom."
—George Elliott Clarke, 7th Parliamentary Poet Laureate (2016 & 2017)
When Preston Downs, Jr., aka Prez, slides down the emergency chute onto the frozen tarmac at the Montreal airport, little does he know that never would he return home to Washington D.C. or to his adopted city, Chicago. Events had sped by after a dust-up with the Chicago police. With a new name and papers, he finds himself in a foreign city where people speak French and life is douce compared to the one he fled.
Son of a World War II vet, Prez grows up in the 50s in D.C., a segregated Southern city, and learns early that black lives don't matter. As a leader in the streets, his journey from boy to man means acquiring fighting skills to lead and unify long before losing his virginity. Smart and skeptical, but with a code of ethics, he, like every black kid, wants to be Malcolm, Martin or at least a "soul brother," which inspires fear among the powers that be.
Spotted while an A student at Howard University in 1964, Prez is invited to do an interdisciplinary course with field work on Civil Rights in Chicago, a city as divided as Gettysburg was a hundred years earlier. Faced with police-state conditions, dubious armed gangs, spies and provocateurs, Prez and the young women and men he works with are propelled into a head-on fight with police.
James Baldwin wrote that the blues began "on the auction block," others say it started with their kidnapping from Africa. Prez was born in exile, with the blues.
Only someone who has lived through that period can write an enthralling and passionate story like Exile Blues. Gary Freeman has done so with insight and sensitivity.
A Novel Inspired by True Events
---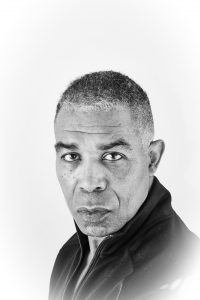 Douglas Gary Joseph Freeman is an African American now living in Canada. He grew up in Washington, D.C., a segregated city known for police brutality.  As a high school student and then at Howard University, he became involved in the Civil Rights movement and then turned to Revolutionary Black Nationalism. Inspired by Frederick Douglass,  Malcolm X and Martin Luther King, he went to Chicago where he worked with a local South Side African American organization. Targeted by Chicago's Red Squad for elimination, he had to fight for his life on a South Side street. The gun-battle that ensued left an officer wounded and the author wounded and in prison.
The author began a long quest for justice weathering repeated and renewed threats to his life. He fled to Canada "illegally" and became Douglas Gary Joseph Freeman. Married with four children, he worked chiefly as a library professional in Toronto. Arrested on July 27, 2004 on an extradition warrant, after an 11-year successful struggle for justice, he was returned home to Canada in January 2015.
Praise
"exceptional and moving… (Freeman) writes with passion about fighting injustice in U.S.A. and his struggle to find peace and security in Canada." — Richard King, on CBC Montreal's Homerun
"To read Exile Blues is to step into the US of the 50s and 60s, to engage with African-American youth at the frontlines of fighting and protesting for freedom and equal rights… an engaging and multi-faceted narrative of survival and strength." — Terese Mason Pierre, Quill & Quire
"Exile Blues could be one of the most important Black History novels to appear in recent years, and Mr. Freeman is a writer worthy of consideration." — The Miramichi Reader, read more…
"Once all monarchies and then-or-now fascistic states, the European-Caucasian-majority duchies claim to be God's chosen, egalitarian democracies.  Yet, to be born black (or Turtle Island Indigenous) in any of these republics or constitutional monarchies is to be born, exiled from true citizenship.  That's the thesis of this gripping, true-to-life novel. Detailing genocidal police warfare against black youths and men in Washington, D.C. (a.k.a. "Dixie"), and Chicago, Exile Blues is also the coming-of-age story of Preston Downs, Jr., "Prez," whose nickname highlights his slick, executive-privilege style of analysis, fisticuffs, and romance.  Prez "out-clevers" the paleface, ghoulish, guns-always-drawn racism of the U.S. capital, and slips the homicidal grasp of Chicago's KKK-like cops, to escape to Montréal ("P.Q."—back then, not yet "QC").  But 1969 Montréal is in revolutionary ferment, and Prez finds himself navigating a maze of Black Panthers, Algerian nationalists, and FLQ radicals, all while trying to stabilize his love-life.  Exile Blues is as cinematic, fast-paced, and action-packed as a classic, Blaxploitation flick.  It's the novel Malcolm X might have written had he not suffered martyrdom." —George Elliott Clarke, author of George & Rue, 7th Parliamentary Poet Laureate (2016 & 2017)
"Drawing on his incredible personal experience of a violent and transformative era in American race politics, Gary Freeman has produced one heck of a good book." —Thomas Mulcair, Former Leader of the NDP
"Exile Blues is fictionalized autobiography at its best. It is a novel but the central facts detail the author's actual experiences of police racism in Washington D.C. and Chicago in the 1950's and the 1960's and his flight to Montreal to avoid prosecution.  Freeman ("Prez" in the book) utilizes the freedom of a novel to re-create scenes that provide deeper understanding and have greater impact than would be possible in an autobiography.  Exile Blues is a very engrossing book that gives fascinating insights into life in black ghettos in the United States." —Peter Rosenthal, Professor Emeritus of Mathematics and Adjunct Professor of Law at the University of Toronto and retired lawyer.
Visited 6120 times , 4 Visits today