Description
FREE DELIVERY IN NORTH AMERICA DURING COVID-19 CRISIS
A series of murders in Montreal park near the Gursky Memorial Hospital have Nurse Annie Linton and Detective Gilles Bellechasse hopping. Suspects include a vigilante group fighting drug dealers, a jealous husband, competing drug dealers, and a mysterious woman of whom nude drawings turn up in a murder victim's bedroom. Annie Linton, a nurse turned sleuth, reveals excellent diagnostic skills critical in solving the crime.
Former bookseller Richard King has created two memorable characters in A Stab at Life. No other mystery writer has made a nurse (a woman) the lead character and situated the action in a hospital milieu. King's mysteries are reminiscent of the originators of the mystery genre, writers such as Agatha Christie and Rex Stout and modern writers such as Robert Goldsborough and Louise Penny. A Stab at Life will delight murder mystery fans  and have them waiting impatiently for the next in the series.
"…he has talent, wit and Montreal." Margaret Cannon, Globe and Mail
"A Stab at Life is a top-notch Montreal crime tale. When it comes to masterful storytelling, Richard is King." Andreas Kessaris, bookseller and author of The Butcher of Park Ex & Other Semi-Truthfull Tales
---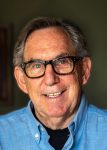 Richard King was co-owner of Montreal's Paragraphe Bookstore in Montreal and served as President of the Canadian Booksellers Association. He has published four previous novels and two biographies. A books columnist on CBC, Montreal, he has volunteered in the emergency department of the Jewish General Hospital since 2009. He lives in Montreal.
Reviews
"King, a lively writer with fine storytelling skills… Readers who know Montreal will recognize neighbourhoods, streets and landmarks in A Stab at Life. Indeed, the city is as much a character as the nurse and the detective." Susan Schwartz, The Montreal Gazette
"King, who has been a volunteer at Montreal's Jewish General Hospital for many years, makes good use of his knowledge of hospital procedures to develop the plot and character of ER nurse, Annie Linton. He also excels in weaving in working-class immigrant life in Côtes-des-Neiges into his intricate plot of crime and passion." Ian Thomas Shaw, The Ottawa Review of Books
Visited 4312 times , 1 Visits today