Description
FREE DELIVERY IN NORTH AMERICA DURING COVID-19 CRISIS
Diagnosed with incurable cancer in 2009 with a maximum six-year life expectancy, the author chronicles her journey through traditional and alternative treatments to complete remission. Without rejecting traditional treatment (i.e., chemo or radio therapies), she refused to be an object to be treated by others. Though initially terrified, she was able to move on, insisting on knowing what was going on and why. This required research, adventure (trips to other countries), sadness, humour, serenity, and some very surprising "alternatives." These include self-hypnosis, determining the emotional causes of my lymphoma, working with a medium, and the essential need for laughter and hope. Her roadmap could be described as interactive, since newly-diagnosed cancer patients overwhelmed by their situation can adapt her approach to their lives.
---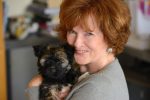 Susan Paton, a cancer survivor, is a graduate of Bishop's University (Quebec) and Université Aix-Marseilles holds an Executive MBA from Smith College, Massachusetts. Her 30-year business career includes HR training, organization development, and career transition coaching. She lives in Montreal and summers at Silver Islet, near Thunder Bay on the north shore of Lake Superior.
---
Praise
"A woman like so many others who learns she has cancer but who refuses to let gloomy predictions cripple her. She wants to believe she'll be healed. She wants to broaden her horizons. She's ready to challenge herself. Hers is the journey of a heroine. A heroine who overcomes her fears, doubts and suffering, but who ends up winning. A book of hope for those who think they're doomed."  Claudia Rainville, founder of the Meta Health Approach and author of 9 books in French, Italian and German.
Visited 3590 times , 1 Visits today