Description
"Vic City Express feels like bungee jumping into a dumpster:
thrilling, disgusting, but above all memorable…
a novella worthy of the praise that has been heaped upon it."—Prism International
This story could happen anywhere. Today the place is Greece, wracked by a crisis that has pushed people to the brink.
Two strangers meet in a train headed for Athens. One spews out his disgust at the foreigners and the poverty that have invaded the neighborhood he calls home, Vic City. He even has a "final solution" in mind. The other, seized by fright—or is it resignation and apathy?— squirms as his haughty silence gives way to voyeurism and to political correctness.
While the former, uninhibited, lashes out at the economic crisis in a violent racist rant, the latter, troubled, checks his email about the latest health treatments aimed at him and his family. Along the way, we get glimpses of the forces that have destroyed a society and left people rudderless.
Vic City Express seizes the anxieties of our dystopian globalized world.
Vic City, kiddo! You know, the Victoria subway station. Nobody could get us out of there. And now you don't even dare walk by outside. They'll close down the street and fight it out. One race against the other. Some of 'em fell down and guys were kicking them while they lay there on the street. Traffic was blocked. Like, it was blood on the sidewalks."
(Translated from the Greek with and Afterword by Fred A. Reed)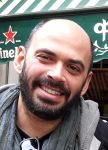 Yannis Tsirbas is a novelist and playwright born in Athens in 1976. His short stories have received national awards. Vic City Express (2013, Nefeli) was short listed for the Greek National Literature Award. He was also the co-screenwriter of the award-winning movie Amerika Square, which was based on Vic City Express. Yannis Tsirbas also lectures in Political Science and Public Administration at the University of Athens.
Fred A. Reed is a three-time winner of the Governor General's Award for translation from French to English. His Greek-to-English translations include works by Nikos Kazantzakis. In addition to translating, he is a respected specialist on politics in the Middle East and is the author of seven books of nonfiction.
---
Praise for Vic City Express
"a small book that throws a very large shadow… (A) timely … one that's also a convincing, localized tour of creeping fascism in Greece and the alarming conditions that are allowing it to take root." Michael Kazepis, World Literature Today
"Vic City Express is a fierce little book; tiny in size, but large in reach and impact…. Vic City Express an extraordinary example of creative fiction, (or a fictional essay), as it employs different writing styles throughout."—The Miramichi Reader

"This slim novel is a powerful inoculation against the fear that is so readily embraced in these dark and uncertain days."—Meagan Logsdon, FOREWORD REVIEWS (Sept./Oct. 2018)
"a provocative and timely book worth reading [that] will leave you squirming….[I]t could take place in Montreal or anywhere because economic upheaval, social insecurity, and ignorance are universal and people continue to want to blame others for their misery…It packs a powerful punch and refuses to look away from the raw and the ugly of human experience….Quebec-based publisher Baraka Books continues to push the envelope and choose fascinating and often controversial/potentially less commercial projects and subject matters to associate itself with and I sincerely admire them for that." — Toula Drimonis, Montreal
---
Praise for original Greek and French Editions

"Yannis Tsirbas has produced a densely written story on complex issue in a mind-blowing language." Demosthene Kourtovik, Ta Ne
"A provocative non-dialogue." Le Monde
"In these times with images that lie, a necessary antidote." Daniel Bégard, Olé
"Incisive, efficient, recommended." Oedipe Purple
"A remarkable sociological and anthropological comment on Athens today, this small book is a must, and is promising for the author's literary future." Kostas Aorastos, Bookpress
"In prose and in fighting, watch out for the little guy. The brevity of this story is equalled only by its muscle. Like a blow to the gut. It makes you feel the harsh reality of a society in crisis that knocks you over, moral vacuum, social violence and racism that we call ordinary until it becomes criminal. In short, 75 pages to convey the banality of evil that is eating us away. Powerful!" Philippe Guazzo, Le comptoir des mots, Paris
Visited 4673 times , 1 Visits today