Description
WINNER: Things Worth Burying wins 2020 Foreword Indies Gold, Adult General Fiction

As a third-generation logger, a life in the bush is all Joe Adler has ever known. He works, he hunts; he provides. But when a man dies on his watch, and his wife abandons their young family for writing school in Toronto, Joe must face the consequences of his hard-living ways. Left alone to care for his seven-year-old daughter, he enlists the help of Jenny Lacroix, the wife of the man whose death he might be responsible for. Resentful and angry, and his conscience over Jenny's husband far from clear, Joe threatens to spiral down the path of fury, booze, and violence that did his father in. What follows in Thinks Worth Burying is a stunning tale of love and redemption, hatred and forgiveness, set amid the desolate cutovers, crystalline lakes, and rolling black spruce forests north of Lake Superior, and in a small logging town called Black River, once mighty and now derelict, in its final throes of existence.
Things Worth Burying is a novel set in a region that is rarely written about, the small resource-based communities that exist along the Trans-Canada Highway and its tributaries, from Sault Ste. Marie to Thunder Bay, the land north of Superior, a land of miners and loggers living a life in the bush, making ends meet, making do with the rise and fall of market economies that determine so much of their fate. Drawing upon his Northern Ontario upbringing, Matt Mayr brings us a single story pulled from a working-class people who in the face of disappearing jobs and shrinking populations make the difficult choice to stay because the land, the life, is in their blood.
---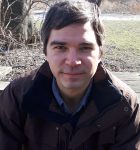 Matt Mayr grew up in Manitouwadge, a small Northern Ontario mining town. He studied English Literature at York University and Creative Writing at the Humber School for Writers. His first novel, Bad City (2015),was a quarter finalist for the Amazon Breakthrough Novel Award. He lives in Toronto.
---
Reviews
"Matt Mayr perfectly captures small-town life [in his] powerful new novel…. Mayr, who grew up in Northern Ontario, perfectly captures the tone of small town life, of men who work in the bush, where, as Adler says, 'Death … was measured in minutes and small errors.' This is a world of friendly neighbours and vicious gossip, of mutual support and petty grudges, where the hotel bar is the only public place left to drink…" Robert J. Wiersema, The Toronto Star.
Things Worth Burying is one of 11 "best new reads in fiction" Spring 2020 according to the Globe and Mail.
"Working-class story of hope and Struggle… [Matt Mayr] writes sympathetically about his characters and wants us, the readers, to be sympathetic with their flaws and the daily challenges of small town life. His writing is clear, engaging, with generous and accurate details about the mechanics of working the bush. Those details ground his story in credibility and draw us into wanting to know what will happen as his plot thickens." Thunder Bay Chronicle Journal
"Mayr captures well the beautiful solitude and melancholy of the bush that draws Joe… The secondary characters… appear well drawn and entrancing… The milieu is unswervingly authentic and will be readily familiar to anyone who's ever spent time north of Sudbury. The ubiquity of lakes, forests, hunting rifles, heavy equipment, and alcohol combine into an ever-present sense of foreboding." Stephen Knight, Quill & Quire
"Mayr's three-dimensional characters capture working class life in a small town, a life many readers will remember, fondly or otherwise… [he] digs deep into the dysfunctional family in which Joe grew up and at the same time creates a window revealing the beauty of the rugged northern Ontario bush." Gordon Arnold, Winnipeg Free Press
"exceptional sophomore novel … a working-class story of life at the struggling-to-get-by level, of a man who loves his child, his work and his hometown…. A gritty, yet heart-warming read, … Recommended, and added to the 2020 longlist for Best Fiction for "The Very Best!" Book Awards." James Fisher, The Miramichi Reader
"a tense narrative, which is coherent, insightful and told from a working-class perspective. Like Steinbeck's salt-of-the-earth migrant farmworkers, Mayr's characters are real, rough and shaped by tough times. … It takes the reader to core meanings of community, family and overcoming generational failure in a way that is contemporary, impactful and enduring." Ian Thomas Shaw, The Ottawa Review of Books.
"The book is set in a logging community in Northern Ontario. The characters are beautifully well drawn & the author writes with a passion for them & their world." Richard King, CBC Montreal, Let's Go
"[Mayr] writes about the Canadian bush, in particular, with a profound awe for its beauty and a healthy respect for its dangers. He also sets up Things Worth Burying for a tragic outcome befitting a life and livelihood spent at the mercy of such an uncompromising landscape." Joel Yanofsky, Montreal Review of Books
WINNER: 2020 Foreword Indies Gold, Adult General Fiction
Visited 4602 times , 1 Visits today