Description
Available October 2018 – pre-order now
Quebec spoils its families, according to some, with those "long" parental leaves—a full year for mothers (Imagine!)—well-subsidized childcare and more. Marilyse Hamelin challenges that restrictive view. But she adds that although progress has been made compared to other places in North America, stop-gap measures are not the answer. Women deserve and expect more. And the fight for women's rights and equality is taking place here and now, in Canada and the US, and not in some distant Third World country.
Why can't woman have it all? Why can't the labour market and the entire infrastructure that sustains it be adapted to meet the needs of mothers—and fathers? What does that mean in practice? What are the causes of the lasting inequality between men and women? Why does our radar blank out women working at minimum wage or less?
Marilyse Hamelin answers those questions and proposes solutions, bringing to bear numerous studies, statistics, and interviews.
With a Foreword by Toula Drimonis
---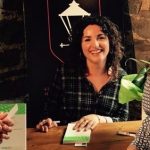 Marilyse Hamelin is an independent journalist, blogger and public speaker born in 1980. She is a regular contributor to leading French-language publications including Le Devoir, La Presse, L'actualité, La Gazette des femmes and Châtelaine. As a committed feminist, she is often invited by Radio-Canada and other media to discuss the burning issues concerning women's rights. Motherhood, The Mother of All Sexism, published in French under the title Maternité, La face cachée du sexisme (Leméac, 2017) is her first book. Marilyse  lives in Montreal.
Arielle Aaronson is a Montreal literary translator with degress from Concordia and McGill. Her translations include QC Fiction novels Behind the Eyes We Meet by Mélissa Verreault and Listening For Jupiter by Pierre-Luc Landry, which she co-translated with Madeleine Stratford.
Toula Drimonis is a Montreal-based freelance writer, editor, and award-winning columnist and a frequent guest on English and French-language radio and television.
Cover illustration by Bruce Roberts
---
About Motherhood, The Mother of All Sexism
"Marilyse Hamelin makes a compelling and well-researched argument: motherhood continues to be a major cause of workplace discrimination, double standards, professional obstacles, guilt trips, exceedingly high expectations, and immense sacrifice for women. They are often the ones who end up relinquishing lucrative careers or personal interests to handle the overwhelming majority of child-rearing tasks. Considering women face pre-existing pay inequity, it's not surprising they're the ones who find themselves precariously below the poverty line in their senior years." — Toula Drimonis, Ricochet
"In this 'plea for parental equality,' the author […] explores how the inequality between fathers and mothers is experienced, investigates the sources of the imbalance, and proposes solutions. […] She observes that women today are still the default parent, where the buck stops, and this hurts them in both their private and professional lives. […] Solutions proposed include overhauling parental leave programs and making them more flexible, which would lengthen the period reserved for fathers, fostering greater participation of fathers in child raising […] a clear and skilfully written book with just the right amount of humour…" — Sophie Marcotte, La Gazette des femmes.
Visited 2379 times , 2 Visits today