Description
The incomparable "Main" or Saint-Laurent Boulevard crosses the heart of Montreal from north to south. It has been a gateway for immigrants and the place where "solitudes" have met. Many social and cultural movements were born on the Main and continue to thrive and influence, Montreal, Quebec, Canada, and beyond.
Saint-Laurent, Montreal's Main
Table of Contents
Preface
Boulevard of Dreams
Introduction
A Vehicle for Modernity
A Vital Thoroughfare
Prologue
Birth of a Great Urban Artery
Montréal, the Strategic Gateway of New France
Dollier de Casson Lays out Rue Saint-Lambert
A Suburb Appears Outside the Walls
From Chemin de Saint-Laurent to Saint-Laurent Boulevard
Chapter 1
Boulevard of the Industrial Revolution
From Villages to Towns
Plateau Mont-Royal, the First Suburb
A Property Developer's Dream
The Municipality of Saint-Louis du Mile-End
Birth of a Mass Urban Culture
When Clothing Was King
Growing Social Unrest
A Historic Strike by French-Canadian Women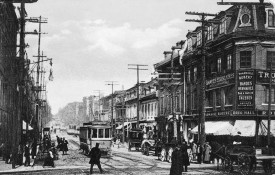 Chapter 2
Boulevard of New Arrivals
The Great Wave of Immigrants, 1905-1914
Jewish Immigrants Top the List
A Well-Organized Proletariat
The Jewish Community Takes Shape on the Main
Emotionally Significant Spaces
Italian and Chinese Immigrants Arrive
Repository of Historic Memories
New Migrations, New Contributions
Chapter 3
Boulevard of Cultural Innovation
The Monument national
Birth of Burlesque and Film
Growth of a Francophone Artistic Milieu
A Decisive Contribution by Feminists
Gangsters, Striptease Artists and Stars of the Stage
Last Gasps on the Lower Main
A Descent into Hell
Under the Wrecker's Ball
Chapter 4
Boulevard of the Technological Revolution
A Different Kind of Immigrant Comes to the Main
An Unexpected Venue for Quebec Literature
Mordecai Richler and Michel Tremblay
Where Creators Meet
A Central Role in the History of Cinema
From Factories to Art Studios
A Multimedia Explosion
Rebirth of the Faubourg Saint-Laurent
Conclusion
A Symbol of "Montreality"
A Constantly Evolving Space
Notes
Bibliography
Photo Credits
Excerpt P. 77
Lili St. Cyr, Circa 1946
One of the best-known striptease artists on the Lower Main, Lili St. Cyr, was born Maria Van Shaak in 1918, in Minneapolis, Minnesota. Her career began in California, in San Francisco to be exact, when a nightclub hired her first of all as a dancer and later to disrobe in front of an audience. Elegant, racy and with great stage presence, Lili St. Cyr met with phenomenal success in her own country and toured the major U.S. centres. In 1944 she came to Montréal, where she played until 1951, an indication of the city's stellar reputation in those times.She often resorted to subterfuges as she removed her clothing bit by bit—in this case a fake parrot!—to avoid breaking municipal morality codes.
Visited 7347 times , 2 Visits today