Description
FREE SHIPPING

"Jean-Yves Soucy's story and encounter with my Dad provides a charming glimpse into a changing world, for us all." Romeo Saganash
It's 1963, Jean-Yves Soucy is 18 and dreams of being a fire warden scanning the boreal forest from a fire tower. But he ends up at an equipment depot between Val-d'Or and Chibougamau. To his delight, he is located near the Cree community of Waswanipi. With two Cree guides, including a man named William Saganash, he will be canoeing through the lakes and rivers of the region.
On each encounter with the Crees, Jean-Yves expects to see a new world. Instead, he meets a different civilization, as different from his own as Chinese civilization. Yet he knows nothing about it.
He wrote Waswanipi because Romeo Saganash, son of William, insisted: "You have to write that, Jean-Yves. About your relationship with my father and the others, how you saw the village. You got to see the end of an era."
Provides a Cree-English glossary.
---
Jean-Yves Soucy (1945-2017) was an award-winning writer, publisher, journalist and scriptwriter, based in Montreal. His previous work in English includes Family Secrets, The Controversial & Schocking Story of the Dionne Quintuplettes and A Summer Without Dawn.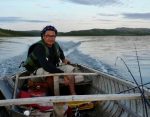 Romeo Saganash, born in 1961 on the shores of a lake in his parents' tent near Waswanipi, is a former Deputy Grand Chief of the Grand Council of the Cree. He was MP for Abitibi-Baie James-Nunavik-Eeyou from 2011-2019.
Peter McCambridge is an award-winning Quebec City translator and Fiction Editor of QC Fiction.
---
Video of launch of Waswanipi, with Romeo Saganash
In the media
"Waswanipi is both a breezy summertime read, a slim and lively book that can be devoured in an afternoon, and a story brimming with big ideas to be savoured slowly. Soucy demonstrates great storytelling with an impressive memory for details and the translation is expertly handled by Peter McCambridge. It's a valuable resource from an anthropological perspective, helping both Cree readers to learn about a valuable part of their own history and outsiders 'to get to the heart of the Cree soul,' as Soucy puts it." Patrick Quinn, The Nation (Cree Nation News)

"The beauty of Soucy's Waswanipi, so brilliantly translated by Peter McCambridge, is that it recounts in the most human of terms, the eyes of youth, an important transformation of one of Quebec's peoples. This is a tale steeped in friendship and understanding, too seldom heard in the polarizing politics of our day." Ian Thomas Shaw, The Ottawa Review of Books

"… short but very readable important piece of historical literature, Waswanipi. (…) Soucy is adept at showing, not telling in his writing as he traverses water and land, villages and forest, contemporary white society and traditional Cree culture. He is an observer and learner.(…) the book is not one of gloom, but one of life and warmth." Daniel J. Rowe, Montreal Review of Books
"Soucy's narrative vividly recalls a time when the traditional life – living off the land, hunting, fishing, gathering – was still possible for the Cree community …. What makes Waswanipi compelling … is (his)  astute observation and recollection…. Soucy's reflections are made more poignant and powerful by the inclusion of an epilogue by William's son, Romeo Saganash." Julie McGonegal, Quill & Quire
"A book that feels like a movie." Mathieu Lavigne, Radio Ville-Marie
"an appeal to generosity and openness… This beautifully written—and witty—story becomes particularly significant through the encounter of two cultures, the overcoming of ignorance or distrust that separates them…" Nuit Blanche
"like a summer gift, to be savoured, slowly." Yvon Paré Litterature du Québec
Visited 3502 times , 5 Visits today