Description
The Civil War divides the United States. Millions, including the president, wish to maintain monuments to generals like Robert E. Lee. Referred to as "Knights" in Gone with the Wind," some generals earned their bona fides by murdering blacks, Mexicans, and Native Americans During the Battle of Chapultepec in 1847, Robert E. Lee fought children, Los niños heroes. Refusing to surrender, they were slaughtered.
Ishmael Reed's reach is vast and varied. His take down of the billion-dollar show Hamilton and its designer Lin-Manuel Miranda is priceless, as are his searing critiques of the 'Black Bogeyman' scam and the one-at-a-time tokenism of an elite who chooses winners and losers among minority artists.
Reed "says what's on his mind," be it about Quentin Tarantino and Django, white nationalism or Donald Trump. At the same time his portraits of Amiri Baraka/LeRoy Jones and actor Oliver Clark are touching and many-layered.
Ishmael Reed has devoted his life to uncovering the neglected cultural and historical record of the United States, no matter how ugly it might be. He uses a full-court press: fiction, poetry, plays, songs, films, interviews, essays, and more. With Why No Confederate Statues in Mexico, Reed is at his best: insightful, hard-hitting, eclectic, refreshing, caustic, entertaining, informative, and, yes, funny.
After The Complete Muhammad Ali, recognized by many as the "truly definitive book" on the champion, Ishmael Reed is back with another exciting book of essays that will stir up debate in the United States and abroad.
---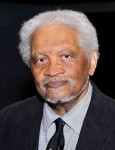 Ishmael Reed is a poet, novelist, essayist, and songwriter. He has won prizes and grants in each category. He is also an illustrator and Jazz pianist. His most recent awards include the Alberto Dubito Award for International Poetry, presented at the Ca'Foscari University in Venice in 2016 and The AUDELCO award for theater presented in 2017. In 2019, he began his 36th year as a professor at The University of California at Berkeley. He also teaches at the California College of the Arts where he is a distinguished professor. He is author of The Complete Muhammad Ali (Baraka, 2015).
---
About Why No Confederate Statues in Mexico
"Since the mid-twentieth century, Ishmael Reed has been deep, abrasive, and didactic, an iconoclastic champion of what is "good" and a formidable critic of what is "bad" in domestic and transnational affairs.  Reed is a fighter, a battered but undefeated fighter. Why No Confederate Statues in Mexico is a compelling record of his place in literary histories and moral struggles. It is a feast one consumes with grains of pepper and salt."— Jerry W. Ward, Jr in NEW WORLD REVIEW
"[Ishmael Reed] is the purest literary troublemaker we currently have… a book that is arresting… always-bracing and readable."— Jeff Simon, Buffalo News
"This book is cynical, critical, hopeful and incendiary. A worthy introduction to one of the sharper pens in the last seventy years, this collection of essays reveals the swift sword that is Reed's rapier wit and comedic talent. Why No Confederate Statues in Mexico continues his unique perspective on history, culture and politics in the USA." — Ron Jacobs, Counterpunch
About Ishmael Reed and his Work
That's what I loved about Baldwin, something that I am inspired by about Baldwin, Amiri Baraka, Ishmael Reed, Gwendolyn Brooks—they were all darlings of the liberal establishment, and they rejected that status, which meant they were pushed to the margins." Cornell West
"Even nearer to [Colson] Whitehead's derailment of antebellum history is Ishmael Reed's Flight to Canada (1976)." Julian Lucas, New York Review of Books
"It was a ceremonial rite of some magnitude when the great American writer, cultural theorist, and musician Ishmael Reed played a jazz composition on the piano."—Vogue, 17 Feb. 2019, coverage of Grace Wales Bonner's London fashion show.
Visited 5217 times , 1 Visits today