Description
In October 1970, Pierre Trudeau sent 12,500 troops to occupy Quebec—7,500 in Montreal. Police locked up more than 500 carefully identified people from all walks of life, held them without charges, bail, or the right to a lawyer, and searched 10,000 homes at gunpoint and without warrant.
Whereas Justin Trudeau said on March 3, 2020, "There is no question of sending the Army against Canadian citizens. I have enormous confidence in our police forces and we have full confidence in the capabilities of the [provincial] government,"  his father Pierre-Elliott Trudeau had no such scruples.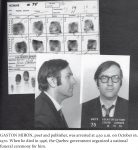 Time has come to reexamine that "massive injustice," as Trudeau cabinet minister Eric Kierans described it. Pierre Elliott Trudeau gave himself "dictatorship" powers by imposing war measures, to use the words of Trudeau's friend Ramsay Cook's.
Many eminent Canadians have severely criticized Pierre Trudeau, but their voices have been buried by a form of candid ignorance and a fudging of the facts. What Margaret Atwood, Reg Whitaker, Robert Fulford, Peter Desbarats, Jack Granatstein, Desmond Morton, Tommy Douglas, Hugh Segal, Michael Gauvreau, Thomas Berger and many more have written deserves to be known.
"I was delighted that someone finally had the courage to tell the truth: that Pierre Trudeau and Marc Lalonde both lied to me about why the War Measures Act was imposed… This is a compelling and essential book." Peter C. Newman
"A fascinating anthology." Paul Wells, Maclean's
---
Guy Bouthillier is honorary professor of political science at the Université de Montréal where he taught for thirty years. He holds a PhD from the Sorbonne (Paris).
Édouard Cloutier is honorary professor of political science at the Université de Montréal. He holds a PhD from Rochester University, New York.
Robin Philpot, publisher of Baraka Books, is a graduate of U. of T. Author of eight books in French and English, he has lived in Montreal since the 1970s.
Visited 4728 times , 1 Visits today