Description
Spring 1651: a young man from Paris lands in Trois-Rivières on the St. Lawrence River. Within weeks, the course of his life changes drastically. Iroquois braves capture him. Pierre-Esprit Radisson, then 15 years old, begins a new life. Canoeing rivers and lakes and portaging over mountains, Radisson's captors take him to distant lands. First they torture him and then they adopt him as their brother. Radisson then becomes the Iroquois Orinha, goes to war with his new brothers, and learns the life and the ways of his new family.
In this historical thriller readers voyage into the heart of a continent and a heroic era with North America's most famous explorer, fur trader and coureur des bois. Vol. 2, Back to the New World and Vol 3. The Incredible Escape are now both available.
Praise/Reviews
Radisson "lives among the (Iroquois) and is ultimately adopted into a family that he loves and fights with as a son and brother. The action here comes fast and hard, and the violence is sometimes shocking; torture was common, and when taking a village by storm no allowances were made for women and children. Hunting scenes are also thick with gore… Readers will wonder what happens next; thankfully, this is the first volume in a series, so we can see how Radisson matures." Heather Seggel, Foreword Reviews, March 2013.
"a welcome addition to Canadian YA historical fiction … this novel has the potential to convey some of the rich history of Iroquois culture and envelop readers in Radisson's adventures." . – Resource Links , Feb. 2013, Vol. 18, #3.
"Radisson's adventures in the Canadian wilderness are vividly portrayed… This fast-paced historical novel is based on his eventful life." VOYA Magazine (Voice of Youth Advocates)
"This is a piece of literary work that brings story-telling to new heights.(…) A fantastic read about the unknown 'New World' that will captivate readers from start to finish." – Jeanbooknerd.com
"Fournier is recognized as a specialist on this historic figure whom he has brought to life in his three young adult novels… The author skilfully blends action with information about the Eastern woodland natives' way of life, including their political arrangements… Fournier presents both the Iroquois and the French points of view fairly. The characters are well drawn… Highly Recommended." Ruth Latta, Canadian Review of Materials, University of Manitoba.

Martin Fournier won the Governor General's Award for the original French version of The Adventures of Radisson. Historian and writer, he has taught at the Université du Québec and published books on Radisson and day-to-day life in New France. Since 2006 he has been Project Coordinator and Editor of the Encyclopedia of French Cultural Heritage in North America.
Peter McCambridge is an award-winning professional translator based in Quebec City. He has an MA in Modern Languages from Cambridge University. He also translated I Hate Hockey (François Barcelo) and The Orphanage (Richard Bergeron). Peter won the 2012 prestigious John Dryden Translation Prize awarded by the British Comparative Literature Association
Orders
Independent Publishers Group (IPG)
(800) 888-4741; fax: (312) 337-5985 orders@ipgbook.com
---
The Adventures of Radisson 2 & 3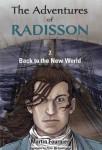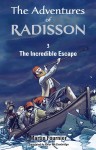 Visited 6979 times , 1 Visits today