Baraka's fall 2013 list is wide-ranging both geographically and in subject matter.
Two books of political nonfiction with a strong historical bent will strengthen our collection in this area. Challenging the Mississippi Firebombers by Jim Dann and Rwanda and the New Scramble for Africa by Robin Philpot will complement earlier titles  such as Slouching Towards Sirte, Trudeau's Darkest Hour, The Question of Separatism, and Dying to Live.
Our new fiction titles are On the Crow and Other Stories by Robert A. Poirier of Maniwaki and the young adult historical novel 21 Days In October by Magali Favre (translated by Arielle Aaronson). On the Crow will be our second book of short stories after Principals and Other Schoolyard Bullies by Nick Fonda. Magali Favre's 21 Days in October, originally published by Boréal, will complement our list of YA novels, which includes The Adventures of Radisson by Martin Fournier and Break Away, Jessie on My Mind and Power Forward by Sylvain Hotte. Parkour and l'Art du déplacement by Vincent Thibault (translated by Casey Roberts) is a work of creative nonfiction and addresses readers young and old alike.
Below is a description of the books in the order of appearance.
_________________________________
June 1964: young civil rights workers, black and white, risk their lives in the face of violence, intimidation, illegal arrests, and racism to register African American voters in Mississippi, where most had historically been excluded from voting. Jim Dann brings that period back to life and provides thoughtful portraits of people on the front lines, including Fannie Lou Hamer, Charles McLaurin, John Harris, Irene McGruder, and more.
Praise
"Jim Dann's Challenging the Mississippi Firebombers takes us through the experience of bringing the civil rights movement to Sunflower County, Mississippi. This enthralling book is an original source of living history about the civil rights movement in Mississippi." Stacy J. White, Chairman of the Sunflower County Civil Rights Organization, Associate Professor of Computer Science at Mississippi Valley State University
"Many opposed slavery, but few were abolitionists; many opposed segregation, but few lifted a hand to end it. Jim Dann answered the call. If you want to know the how and why of fighting oppression, open this book." Phil Taylor, Radio Broadcaster at CIUT, Toronto.
Jim Dann volunteered for the Mississippi Summer Project organized by the Student Nonviolent Coordinating Committee (SNCC) in 1964 and stayed on the following year as an SNCC field secretary. He lived in Vacaville, California. Jim died of leukemia on June 16, 2013.
Price $24.95 | 240 pp | 35 BW photos | 3 maps | 6 illustrations by Tracy Sugarman pbk 9781926824871 (All ebook formats)
____________________________________________
Parkour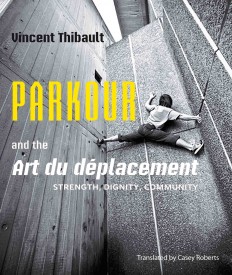 and the Art du déplacement
Force, Dignity, Community
by Vincent Thibault (translated by Casey Roberts)
Parkour, the Art du déplacement or freerunning: whatever the name, this new discipline born in the Paris suburbs is rapidly being adopted by people throughout the world. These athletic artists or artistic athletes want to take back the urban environment. Not satisfied to suffer through urban life, they want to thrive in it, all the while earning dignity by daringly reappropriating three fundamental motor skills, running, jumping, and climbing.
Thibault approaches parkour as an attractive solution for rival gangs, a force against the overwhelming inertia, and an occasion to challenge one's own fears. Reflecting on the culture of effort, he also avoids the media-based trap that depicts Parkour as just another of those elitist extreme sports. This book is a philosophical and lyrical adventure into martial arts and chivalry in an urban setting.
Vincent Thibault is a writer and cofounder of the Académie québécoise d'art du déplacement. Author of two collections of short stories, two novels, and two books on philosophy and spirituality, he lives in Quebec City.
Price $16.95 | 170 pp | 6 BW photos | 6 line drawings  pbk 9781926824918 (All ebook formats)
Available October 2013
__________________________________________
21 Days in October
By Magali Favre
(translated by Arielle Aaronson)
"21 days" in October 1970 was the legal limit, under the War Measures Act, during which the Canadian government could hold prisoners incommunicado without charging them or justifying their arrest.
Gaétan is 16. He has quit school, works in a factory in Montreal's Saint-Henri district, and finds himself embroiled in a political conflict. His good friend is arrested for taking part in a union meeting, his father, for speaking out to loudly about city elections held during the crisis. By chance, Gaétan meets Louise, a young college student who, although she is from a different background and is involved with radical friends, takes a keen interest in him.
In this troubled period of Quebec's and Canada's history, young people are confronted with unrelenting factory work, unemployment, harsh police and military action, and imprisonment, but also, hope, political commitment and first love. They also come to understand the sources of the revolt. 21 Days in October was first published in French by Les Éditions du Boréal.
Magali Favre was born in the south of France but grew up in Montreal, Quebec. She now lives in Paris. After teaching for several years, she now makes a living as a writer She is the author six young adult novels that convey her passion for history, education, and the issue of disappearing languages and cultures.
Price $14.95 | 150 pp |   pbk 9781926824925 (All ebook formats)
______________________________________________
On the Crow and Other Stories
By Robert A. Poirier
In five stories and one novella, readers escape the city, live in the wilds, and experience the challenges of nature, including human nature, in all its complexity. Robert Poirier reveals an exceptional skill at bringing to life the people with whom he lives and the land he inhabits and loves. Be it love lost on a canoe trip, conflicting values and naked conflict between natives and newcomers, the dangers, excitement, and solitude of winter travelling and camping with dogsleds or the barroom and prison enforcer straight out of a Johnny Cash song, Poirier writes brilliantly about what he knows best.
Bob Poirier lives in the log cabin he made on his land near Maniwaki, Quebec. He studies Algonquin, has embraced Algonquin spiritual beliefs, and treats and cares for all species of fauna at his wild animal rehabilitation centre. He taught high school mathematics for many years and has given short stories as Christmas presents for years. He is also the author of the novel Washika published by Baraka Books in 2012.
Price $19.95 | 200 pp |   pbk 9781926824932 (All ebook formats)
___________________________________________
Rwanda and the New Scramble for Africa
From Tragedy to Useful Imperial Fiction
By Robin Philpot
Former UN Secretary General Boutros Boutros-Ghali declared to the author  that "the Rwandan Genocide was 100 percent American responsiblity." A more official narrative would have it that horrible Hutu génocidaires planned and executed a satanic scheme to eliminate nearly one million Tutsis after the Rwandan presidential plane crashed in the heart of dark Africa on April 6, 1994. Where do these two contradictory narratives come from? Which is true?
Robin Philpot's vast and methodical research, extensive interviews, and close analysis of events, testimony in courts, and popular writings on the subject, show not only that that official narrative is false, but that it was edified to cover up the causes of the tragedy and to protect the criminals responsible for it. What's more, to make us believe that story, the storytellers have unfailingly reproduced the literary traditions, clichés, and metaphors that provided the underpinnings of slavery, the slave-trade, and colonialism.
Nearly 20 years later, the facts about the Rwandan tragedy have been so distorted and the adjudicated facts, ignored, that Rwanda is now used everywhere to justify so-called humanitarian intervention throughout Africa (and the world). It has become a 'Useful Imperial Fiction.' For that reason, we must find out what really happened there.
Advance Praise
"Robin Philpot's Rwanda and the New Scramble for Africa effectively dismantles a remarkable structure of disinformation on an important area and topic and it throws light on the broader thrust of imperial policy.  This book is essential reading." —Edward S. Herman, Co-author of Manufacturing Consent (with Noam Chomsky) and The Politics of Genocide (with David Peterson).
Robin Philpot is a Montreal writer, translator, and publisher. Author of six books in French on international and Canada/Quebec political issues, he is co-author, with Jacques Lacoursière, of A People's History of Quebec.