Description
Available June 1, 2017. Pre-order now.
September 1978. 11,700 hard rock miners and smelter and refinery workers at Inco's Sudbury operations face a stark choice. Should they remain on the job? Or take seemingly suicidal strike action against a huge multinational that has stocked up enough nickel to last a year?
A fateful choice is made. It changes the lives of newlyweds Jake and Jo Ann McCool and the Canadian labour movement forever. Against a backdrop of unrelenting winter and swirling changes in social mores, the ensuing struggle triggers epical challenges few could have foreseen.
The third and final volume of Mick Lowe's sweeping Nickel Range Trilogy, Wintersong, is working class literature at it's best, echoing the great tradition of writers like Upton Sinclair, Theodore Dreiser, Steinbeck and Dos Passos.
"No one will ever be sure of the impact Jo Ann McCool's sudden burst of eloquence had on the out­come—or on what would come later—but the standing vote revealed a razor-thin victory for the "yes" side. The Wives would take a stand on the agreement. But what would it be? Once the buzz in the aftermath of the vote count had abated, the debate over this second crucial question began in earnest."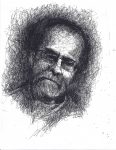 Mick Lowe is a prolific journalist, writer and newspaper columnist. Author of the true crime classic Conspiracy of Brothers: A True Story of Bikers, Murder and the Law, he has lived in Sudbury since 1974 after immigrating to Canada in 1970 from the United States. The first two volumes of the Nickel Range Trilogy are The Raids and The Insatiable Maw.
Visited 486 times , 1 Visits today